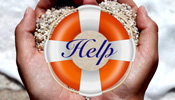 Here are some commonly asked questions.
Click on the questions below to view the answers.
The Basics
Help with audio files
more information coming soon….

If you are attempting to stream a video or listen to a meditation but find that it shows as "buffering," that is an indicator that the internet connection is not as fast as we would like. The device is trying to download the first block of data and needs some time to catch up in order to play the video/audio continuously. Utilizing a faster connection should solve the problem.
How to access your daily Cups of Consciousness Meditations
How to access the TALL Cups
CLICK HERE to purchase past TALL Cups.

To access your past TALL Cups, please login to your account: http://www.aleyadao.com/catalog/login.php?

Once you have signed in, click on TALL Cups of Consciousness in the MY LIBRARY section.
How to get your meditations and music on your iphone
Not getting your daily meditations or TALL Cups?
1) Check Your SPAM/Junk folder.
Click Here to learn how to white list an email address, or add it to your address book.
3) Login to your My Meditations (or TALL Cups of Consciousness) to see if the daily cup (or TALL Cups) is there.
http://www.aleyadao.com/catalog/login.php?
If your cup of the day is in your Meditations Account…it means your email server is blocking and marking the daily cups as spam.
You will need to login on line to your mail server and access your mail online and search the spam or junk folder for the meditations. Once you have found them, mark one of the emails as not spam and/or set up a filter to never put it in your junk mailbox.
If your daily cup or TALL Cup is not in your account…
Login to your account –  http://www.aleyadao.com/catalog/login.php?
Check the status of your daily cup subscription.
If your subscription is expired, you can renew.

About the Meditations
I have not been able to get to all the meditations in a timely fashion in one day
"I had been doing the Morning Meditation and then later doing the Daily Meditation and then before bed I do the Clear Your Fields at the End of the Day Meditation. For the last 2 weeks I have not been able to get to all of them, sometimes only accomplishing 1 of them a day. Would all 3 be the most beneficial?" 

 

All three are helpful, but just do what you have time for. You can also multi-task as you listen to them. The work still happens in your fields.
Do the daily meditations REPLACE the morning "Grounding & Setting Up Your Energy Fields" meditation that you have online?
The daily meditations can be used alone or with other meditations. You can experiment and see what supports you and also do what you have time for. The daily meditations keep you energetically updated with all the shifts that are occurring on the planet.
Are the Daily Meditations more current? Should I use these instead of the ones for specific issues?
"Are the Daily Meditations more current and in-tune to the vibration of now? Should I forget about the others you have online altogether? I have been using the online ones for treatments for issues that arise. Should I just focus on the Daily Meditations?"

 

The daily meditations are current but not as deep as the more extended meditations that I have posted online. Use them both as the need arises ans as you have time. If you have a specific issue you'd like to address, definitely use the meditations that are specifically focused to your need.

Your Subscription or Account
How to change your email address for the daily Cups and TALL Cups
To update your email address:

1. Login to your account: https://www.aleyadao.com/catalog/account.php?

2. Click on "Change My Email Address"

3. Enter your new email address and save.
How to update your credit card for your subscriptions
1. Go to http://www.aleyadao.com/catalog/login.php?

2. Enter email address to login.

3. Click "Update My Payment Method/Credit Card" in the MY ACCOUNT section.

4. Enter credit card information and click [Update]
Your PayPal subscription was not able to process
What you can do now:

1. Login into your PayPal account and determine how the payment is being funded: via your PayPal balance, or credit card.

Login to PayPal here – https://www.Paypal.Com/Home

2. If the primary method is your PayPal balance, verify you have sufficient funds in your PayPal account.

3. If the primary or secondary method is a card or bank account, make sure the card has not expired. If the card and bank account look good contact PayPal and inquire why the payment failed.

4. If the payment failed due to denial from the funding source, you can contact the funding source to determine why the payment was denied.

If you do not want to deal with any of the above, let me know and we will cancel your PayPal subscription for you and you can re-subscribe using a credit card.

http://www.Aleyadao.Com/Catalog/Products/Daily-Cups-Of-Consciousness-Meditations/555/
How to reactivate your subscription
We are building into the system the ability to reactivate your subscription directly from our website.

In the meantime please email us so we can assist – support@aleyadao.com.
How to cancel your subscription
We are working on building the ability to cancel your subscription directly from our website.

In the meantime please email us at support@aleyadao.com.

If you have a PayPal account you may login to PayPal and cancel it from there.
If the above questions and answers did not help you, CLICK HERE to request a detailed answer to your question. We will work with you to get an answer.